Good evening everyone! It's no doubt that 2017 has been a hell of a year following what happened in 2016, but we fought through and we are still here fighting! This year has also been huge in terms of game development for me. I managed to finish SEVEN games this year, six from game jams such as #RemakeJam, PROCJam, Jamchester and Three Ludum Dares!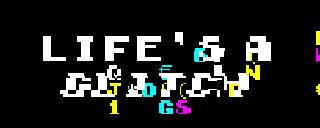 The seventh game was the nearly two year project Gemstone Keeper, which made an initial release on March 31st earlier this year and has since had numerous updates, although grouped together as four updates. The most recent of which was 1.0.4 that was announced on 21st of December. The game is currently on part of the Steam Winter Sale, and is currently 50% off!
Gemstone Keeper also had a second smaller release as it was ported to Linux, the build being available on Steam in June. I documented the progress to port the game in three blog posts (part 1, part 2 and part 3), and got a small amount of coverage from dedicated linux gaming websites as a result.
There was also an accomplishment in travel as well, 2017 was the year I went to both GDC in San Francisco and Develop in Brighton for the first time! Both events were great opportunities to meet up and socialise with fellow game developers and listen to talks from great minds such as Ken Perlin, John and Brenda Romero, Jordan Mechnar and Tim Sweeny.
As for 2018, I want to set some goals. As with many New Years Resolutions, chances are they will be forgotten and unaccomplished, but considering I managed to lose weight this year, I might pull through with a bit of committment.
First one is that I want to take part in at least one game jam a month, meaning I'd be finishing 12 games next year. I like the challenge and creativity from game jams, but this year I feel like six isn't enough. At least spacing out the game jams to one a month will give me time to find a weekend or so to get my head down and finish something.
Second one is to get a game on console. It's not like I haven't bothered trying before (I've reached out to Nintendo about developing Gemstone Keeper for the Switch to no avail), but it would be nice to expand my work beyond desktop PCs and web development. Porting my own game to Linux should show how when I put my mind to it, building a game to another platform by hand is possible, and it would be great to show I can do that on one of the three main systems.
Thanks for reading and have a happy new year everyone!