So it's been a few weeks, so I figured I'd show you some of my favourite games from the passing GBJam. Of course there are many brilliant submissions (including the one I was involved with :P), but here are just some of the great ones that appeared.
ChuChu Rocket Game Boy – Carlos Hellin
Brilliant port of the classic Sega title.
Mr Kitty Saves the World – James Earl Cox III
Nice title screen and music, I won't spoil the rest of it, but it isn't as pleasant as the title screen makes it out to be.
Runner – Hernán Di Vincenzo
Great design. but controls are a bit finicky. Still a great looking game with great music.
Super Game Boy – McDucky
Quite a nice compilation of classic games, I especially like the Pokemon menu layout in particular. The mini games inside look really well made.
Squarebot – Heartvine, Skudge and Magnus
Really cute character design. Really good and simple platformer with challenging obstacles.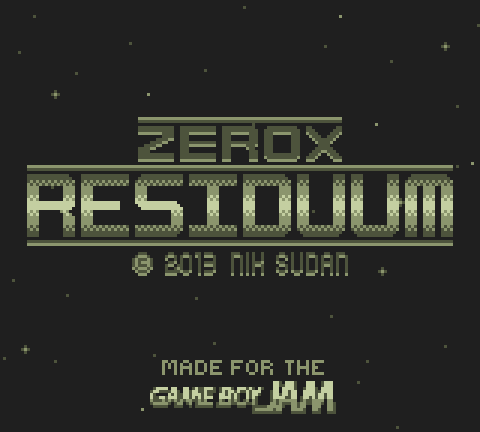 Zerox Residuum – Nik Sudan
Metroidvania game that's very straightforward and great fun. Awesome name as well.
Wild West The Sherrif – Stefan Trifunović
Brilliantly drawn and animated game that's a great platformer with great structure.
Scrapped Robot – Finding the Next Hat – Malte Buttjer & Philip Wagner
Really funny game, well designed exploration game where you have to find your robots hat. Has a great sense of humour. Well worth it!
Feel free to try out some neat games!